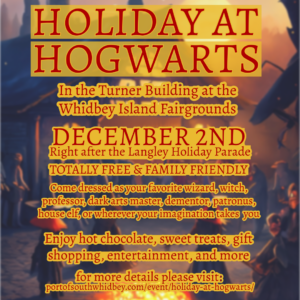 HOLIDAY at HOGWARTS: A Magical Event for the Whole Family
LANGLEY, WA – Get ready to experience the magic of Harry Potter at the HOLIDAY at HOGWARTS event, taking place on December 2nd at the Whidbey Island Fairgrounds. This free, family-friendly, alcohol-free event is a must-attend for all Harry Potter fans and anyone looking for a fun-filled day out.
The event kicks off shortly after Langley's annual holiday parade, which starts at 11 a.m. Come dressed as your favorite Harry Potter character, or let your imagination run wild and create your own costume. All costumes and cosplay are encouraged, so feel free to go all out!
In addition to the costumes, there will be hot chocolate and sweets available for purchase from local vendors. The Country Christmas sale is also taking place on the grounds simultaneously, so you can start your holiday shopping too.
If you, your business, or your non-profit organization would like to participate by decorating a stall in the Turner Building, please email FGEvents@portofsouthwhidbey.com. Participation is free of charge, and it's a great opportunity to showcase your creativity.
Don't miss out on this magical event that promises to be a highlight of the holiday season. For more information, visit the Fairgrounds page on Facebook or www.PortofSouthWhidbey.com
Contact:
Name: David Stern
Phone: 360-221-7950
Email: FGEvents@portofsouthwhidbey.com