Humphrey Road Ferry Parking Lot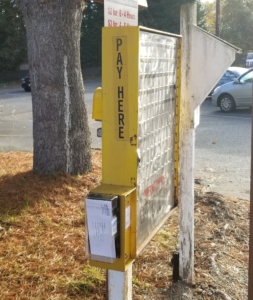 Flying out of Paine Field or Seatac Airport?
Park at our Humphrey Road lot for just $5 per day!
Park in a Numbered Space
Find a multi-day parking envelope at the Pay Station
Fill out the front of the envelope, including Space #
Include cash or check (payable to Port of South Whidbey)
Deposit in the yellow ENVELOPE box.
Call us at (360) 331-5494 for more information
Located immediately above the Clinton Ferry Terminal. With 109 permit slots and 100 daily slots, the lot provides a convenient and low-cost parking location to commuters who choose to walk on the Ferry.
Daily parking rates are $2 for the first four hours, $3 for 4-8 hours, $4 for 8-12 hours, and $5 for 12-24 hours. Parking for more than 24 hours is $5 per day.
Parking permits are $125 per quarter (Jan-Mar, Apr-Jun, Jul-Sep, Oct-Dec). New customers may pro-rate their first permit, based on which day they sign up. Permit applications may be obtained by clicking on the link below.
Contact Information