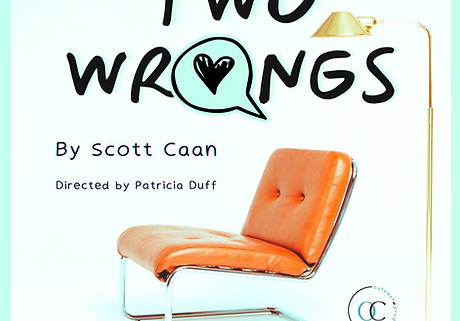 Two Wrongs
by Scott Caan
Performance Times:
Fridays, Nov. 17, Nov. 24 and Dec. 1 @ 7:30 pm
Saturdays, Nov. 18, Nov. 25 and Dec. 2 @ 7:30 pm
Bargain Sunday, Nov. 26 @ 4 pm (all seats $14)
Sunday, Dec. 3 @ 4 pm
Students/Senior – $16
Adults – $20 (Get them online, at the door or reserve at ocp@whidbey.com.)
Directed by Patricia Duff
A contemporary comedy of errors about two young, neurotic patients in analysis, trying to discover where they go wrong in relationships. Terry, obsessed with love, and Shelly, unrelentingly careless with men, are set up by their therapist, Julian. Unbeknownst to them, Julian finds himself at a crisis of scruples. What ensues is a chaotic triangle that follows their cathartic journey with sincerity, self-awareness and comedy.